Master Evolution Camp 2022 January 31 & February 1 2022, Naron, Galicia
Gennaio 31, 2022 @ 8:00 am

-

Febbraio 1, 2022 @ 6:00 pm

UTC+0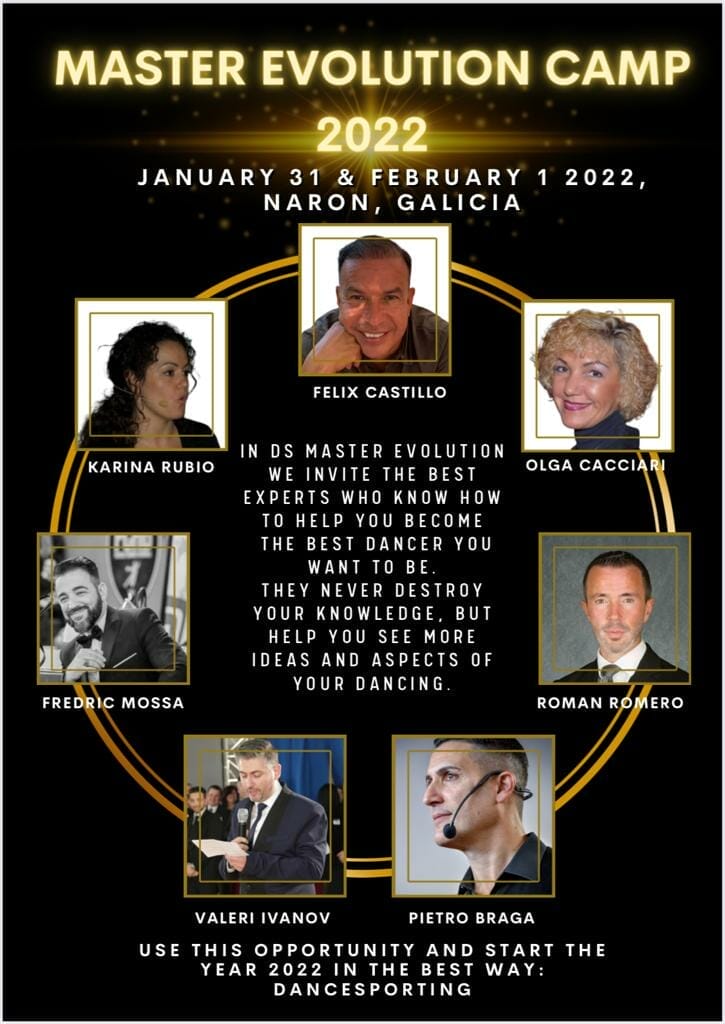 Master Evolution Camp 2022
January 31 & February 1 2022, Naron, Galicia
Our Experts:
Olga Cacciari
Felix Castillo
Karina Rubio
Fredric Mosa
Pietro Braga
Valeri Ivanov
Roman Romero
Karina Rubio
Felix Castillo
Olga Cacciari
Valeri Ivanov
Fredric Mosa
Pietro Braga
Roman Romero
Waiting For More Teachers To Confirm
In DS Master Evolution We Invite The Best Experts Who Know How To Help You Become The Best Dancer You Want To Be.
They Never Destroy Your Knowledge, But Help You ​See More Ideas And Aspects Of Your Dancing.
​We have gathered the best experts in mechanics, musicality, shaping, expression, use of space and all the important aspects of a top performance.
Making a movement not only technically perfect, but also making it transmit an emotion is one of the most difficult things, and what makes our sport so special.
You can not miss this event, where the best in the world will be at your service.
​Use this opportunity and start the year 2022 in the best way: dancesporting
​
​Do not make the mistakes that 80% of the dancers make, train yourself to achieve the best.
This is why it is mandatory to attend our Master Evolution in DanceSport.
Check your knowledge, choose ideas, motivate yourself by dancing and learning with the Top.
​Become The Dancer ​You Dream To Be!
​Only you have the power to decide the direction of your career.
In our competitive world there are not many possibilities of error.
Time passes and some are left behind.
Recovering time and mistakes can be very costly and even impossible.
This is why it is important to recognize opportunities and use them when they arise.
DanceSport Master Evolution Is Focused On
​Personal Development As A Dancer
In Getting The Best Out Of Each One And Also Doing It Now.
​Our Event Is Separated Into 3 Fundamental Parts.
Group Classes: To experience and bring some of these ideas into practice and adapt them to your dance.
​Private Lessons: The opportunity to individualize the work and focus attention on you and your partner.
​Coached Practice: 4 hours where some of our teachers will help you put the whole set in motion.
Get Notified for Future Information
Enter your first name & email to get on the notification list and be notified when we upload more information into this page…